Why should Sandals Grande St. Lucia be your next vacation stop? First, consider that guests enjoy the All-Inclusive Luxury Vacation in the most gorgeous  tropical & beach settings!  Does that get your attention? Add to that: Best Beaches, Unique Gourmet Dining, Premium Spirits, Premium wines, Padi-certified scuba diving included, entertainment, championship golf, unmatched service, and finally, stay at 1 and play at 3 (or more) resorts!
Sandals Grande St. Lucia                                                                  
St. Lucia is a magical island offering panoramic bay views and the best beaches in the Caribbean. This gives one the feeling of complete island seclusion – you are in a world by yourself. Towering Piton mountains and fern-frilled jungles bring about a complete sense of relaxation. Sandals Grande St. Lucia builds upon that feeling and gives you the ultimate vacation experience. For this reason, it is probably my favorite Sandals Resort on St. Lucia. The beach here is long, the drinks steady, entertainment entertaining, and the soft breeze amazing!  The swim-out rooms and romantic Rondoval Suites make it an ideal honeymoon hot spot. The main pool area is very lively and winds around through the room buildings, like a ribbon of water.
Why should Sandals Grande St Lucia be your next vacation spot? The resort offers an endless supply of restaurants with delicious food options, recreation and amenities along with some of the BEST diving available, anywhere in the Caribbean. The best hiking is a trek up to Fort Rodney, on the peak just beyond the resort (club concierge will act as your guide on the hike). And, with the free inter-Sandals shuttle service, there are up to 27 restaurants and numerous beach options available between the three Sandals resorts in St. Lucia. Dinner reservations are required at some restaurants, so be sure to plan ahead and contact the concierge or a butler for dining options soon after arrival.
One note… because of location, getting to this resort can be a bit bumpy and the transfer time is approximately ninety minutes+. If this a concern I recommend a helicopter tour to/from the George F.L Charles Airport. This flight to the north is one that you'll remember for a lifetime!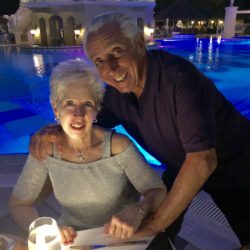 Sandals Halcyon up next!
Susan