Top 10 reasons why St. Lucia is the perfect Caribbean getaway! St. Lucia's sandy beaches, crystalline waters, and luscious rainforests draw visitors from around the world to experience all that it has to offer. And it offers so many unique and unforgettable inspirations, that it leave visitors with memories that last a lifetime. Being a small Island in the Caribbean, unlike any of its neighbors and unique in its own way, here are several things you need to know before visiting St Lucia. 
Food on the island combines Creole with French and West Indian. The restaurants and hotels/resort in the major towns serve many different types of food and international dishes. Fresh seafood is caught and brought in daily, along with locally grown vegetables and fruits. The main agriculture on the island, and exports, is cocoa and banana.
Most Saint Lucians are bilingual, speaking Kwéyo`l, a creole language that is a mixture of French and African languages. English is spoken & instructed in schools, and it's used in business, government offices, and in most formal settings. The people are happy, friendly, and helpful. Service throughout the island is exceptional – from beachside bars, boutique restaurants, and fine dining. Everyone we met was such a joy to get to know and wanted share their island. St. Lucia is very safe compared to other Caribbean islands, and the locals told us that theft/crime is not very common. Everyone we met never displayed any kind of aggression, in fact the opposite, as they displayed a warm charm and genuine friendliness.
#10 Hike the Pitons
The Pitons are to St Lucia what the Great Wall of China is to China. One of the most photographed landmarks on St. Lucia, they rise straight out of the sea, and offer a majestic scene across the western coast. Gros Piton stands 2,619 feet above sea level, and together with Petit Piton,  they present really stunning views of the island once you reach the top, or if they are viewed from below! A hike to Fort Rodney on Pigeon Island is a wonderful way to get a panoramic view of the island without being overly challenging!
#9 Pigeon Island National Park
History & a hike to Fort Rodney on Pigeon Island is a wonderful way to get a panoramic view of the island without being overly challenging, mentally or physically! Don't let the name fool you, Pigeon Island is a quiet place to stop, swim, and take in the beautiful views. Visitors can also learn about the island's history and explore the 18th century ruins at Fort Rodney, pictured below.
#8 Scuba or snorkel
St. Lucia offers world class diving locations with amazing experiences to offer. No matter what your level or diver or snorkeler, the island has many wonderful diving sites with spectacular coral formations, fascinating shipwrecks and reefs teeming with tropical sea life.
#7 Drive thru Volcano at Sulfur Springs Park & Botanical Garden
A must see is the world's only Sulfur Springs drive-through volcano in the Caribbean! The 30-minute guided tour will take you to the top of the volcano, and the sulfur mineral bath afterwards will feel like a spa treatment. This location can get crowed! Plan on going early in the day  to enjoy it the most.
#6  Fly through the rainforest canopy
For those who want more than a tan from their holiday, St Lucia couldn't be better. Approximately 77 % is covered in forest. So this is good reason to escape the beach and start exploring. Visit the Rainforest Adventure, about a 20-minute drive from the capital, Castries. A gondola, series of treetop platforms linked by zip lines, takes guests deep into the jungle. The guides are knowledgeable – and all ages are certain to love it.
#5 Castries Market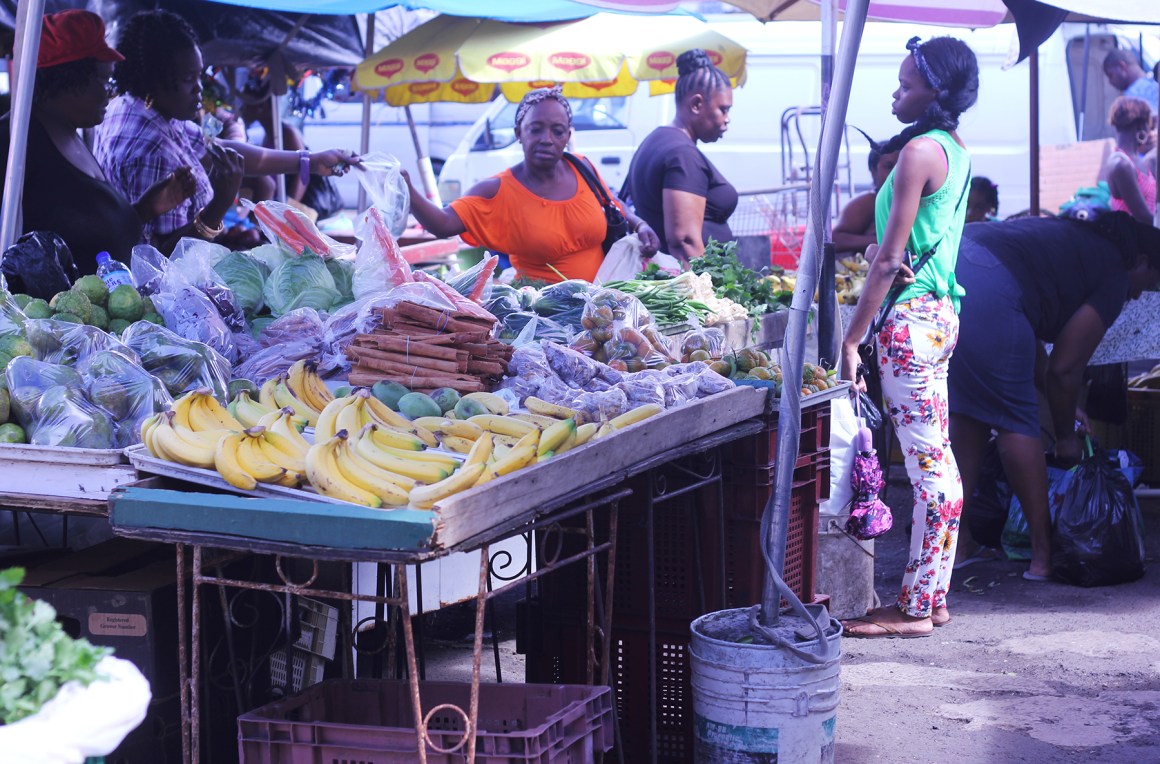 St. Lucia's capital boasts an open air market that is full of a variety of food & souvenirs. National Geographic has rated it #3 food market in the world. Don't miss out on the locally caught fish, spices, fresh fruit and fresh coconuts on the streets of Castries. The market is closed on Sundays.
#4  Hurricanes try to stay away from St. Lucia
Because this is such an enjoyable island, with so much to do, most hurricane wrath is felt further north and the very worst of the stormy weather tends to stay away from this more Southern location. (Hurricanes can reach St. Lucia.)
#3. Chocolate lovers heaven on earth
Hotel Chocolat, since 2011, has been home to a 14 room hotel & restaurant. Britain's famous chocolatier, obtains cocoa from it's plantation, the Rabot Estate near Soufriere.  Dine on a delectable menu featuring chocolate or plan to go on one of its three-hour "bean to bar" tours to learn all about cocoa production, pick and taste fresh pods, graft your own plant, and then smash dried beans to make a chocolate bar.
#2. Best Resorts & locations imaginable
Nestled between St Lucia's landmark Pitons and the Caribbean waters, find so many luxurious resorts & hotels, making vacations the most memorable spots anywhere in the Caribbean. With impeccable service, incredible menus, eye dropping views, and gorgeous accommodations these luxurious resorts won't soon be forgotten. 
And the #1 reason why St.Lucia is the perfect Caribbean island…St. Lucia has best view in the Caribbean!
There are more gorgeous beaches on St.Lucia than imaginable! Along the west coast – Anse Castanet, further north – Marigot Bay with it's picturesque harbor, mile-long Reduit Beach, and the largest, most popular, near the town of Rodney Bay, is the biggest, and most popular.  St Lucia's spectacular coastlines and Grand Pitons are among the most photographed. 
If you want to find out more about St. Lucia: https://www.stlucia.org.       Don't miss my next posts about the resorts that I visited while on St. Lucia. Call/ email today to find out how to experience St. Lucia's Top 10!  Susan@GoTravelStl.com
Susan